Upcoming Event
Conversations with Judge Richard Gergel and Robert Rosen
Jews of the Civil War: North and South
with special guest Dr. Jonathan D. Sarna
Sunday, January 24 5:30 PM
Dr. Jonathan D. Sarna is University Professor, the Joseph H. & Belle R. Braun Professor of American Jewish History, and Director at the Schusterman Center for Israel Studies at Brandeis University. In 2018, he resigned as chair of the Hornstein Jewish Professional Leadership Program after more than a decade of leadership. He is past president of the Association for Jewish Studies and Chief Historian of the National Museum of American Jewish History in Philadelphia.
Dubbed by the Forward newspaper in 2004 as one of America's fifty most influential American Jews, he was Chief Historian for the 350th commemoration of the American Jewish community, and is recognized as a leading commentator on American Jewish history, religion, and life. In 2009, he was elected to the American Academy of Arts and Sciences.
Born in Philadelphia, and raised in New York and Boston, Dr. Sarna attended Brandeis University, the Boston Hebrew College, Merkaz HaRav Kook in Jerusalem, and Yale University, where he obtained his doctorate in 1979.
From 1979-1990, Dr. Sarna taught at Hebrew Union College-Jewish Institute of Religion in Cincinnati, where he rose to become Professor of American Jewish history and Director of the Center for the Study of the American Jewish Experience. He has also taught at Harvard, Yale, the University of Cincinnati, and at the Hebrew University in Jerusalem.
Dr. Sarna came back to Brandeis in 1990 to teach American Jewish history in its Department of Near Eastern & Judaic Studies, which he chaired three different times. He also chairs the Academic Advisory and Editorial Board of the Jacob Rader Marcus Center of the American Jewish Archives in Cincinnati.
Dr. Sarna has written, edited, or co-edited more than thirty books, including Lincoln and the Jews: A History (with Benjamin Shapell) and When General Grant Expelled the Jews. He is best known for the acclaimed American Judaism: A History. Winner of the Jewish Book Council's "Jewish Book of the Year Award" in 2004, it has been praised as being "the single best description of American Judaism during its 350 years on American soil."
He is married to Professor Ruth Langer, and they have two children, Aaron and Leah.
Conversations with Judge Richard Gergel and Robert Rosen
South Carolina Jews and Reconstruction
with Hyman Rubin III, author, South Carolina Scalawag
Sunday, February 7 5:30 PM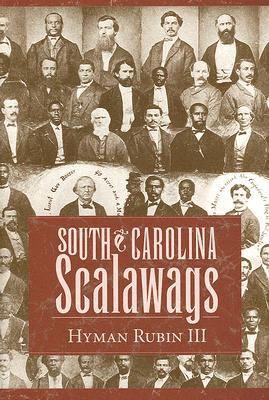 Ongoing Projects
JHSSC's Jewish Merchant Project
For more than 300 years, Jewish settlers – from across the Atlantic and around the country – have made their homes in South Carolina. The earliest Jews populated Charleston, Georgetown, and later Columbia, where they held a variety of occupations and became immersed in civic life. By the late 1800s, Jewish merchants had set up shop on downtown streets in towns big and small, and more than 100 years later their legacy remains alive through their descendants. The Jewish Merchant Project (JMP) goal is to preserve memories of the men and women who have played vital roles in communities across South Carolina. Their stories are our history.
Beginning in 2017, the JHSSC partnered with Historic Columbia and the College of Charleston to undertake a state-wide survey of Jewish merchants, past and present. The JMP website is the foundational product of that survey and will capture the impact of Jewish businessmen and women on communities, large and small, as well as the networks of family and friends that led Jewish men and women to call this state home.
Jewish Merchant Project | Explore the Merchant Map
Historic Columbia and Columbia Jewish Heritage Initiative
Purpose: Identify and fill gaps in the documentation of Columbia's Jewish History; Document stories of Holocaust survivors who settled in Columbia; Encourage dialogue by collecting and sharing stories, images, and documents; Broadcast information to diverse audiences through print and web-based media and public programs; Create an ongoing coalition to sustain the effort in the future; Record stories of elders of Columbia's Jewish community. To read the entire article about the Columbia Jewish Heritage Initiative go to Page 11 of the Fall 2015 Magazine.
Contact:
To learn more about or participate in the Columbia Jewish Heritage Initiate, go to www.historiccolumbia.org/CJHI or Contact: Robin Waites, Executive Director Historic Columbia, rwaites@historiccolumbia.org.
Are you planning an event pertaining to South Carolina Jewish History?
Contact us to have it listed here on our site.