Upcoming Event
JHSSC 25th Anniversary Meeting
Save the date for the JHSSC's 25th Anniversary Meeting and celebration, May 18-19, 2019. On Saturday, the meeting will focus on the Society's current initiative, the Jewish Merchant Project, and will culminate in a 25th Anniversary reception, and the public launch of the Jewish Merchant Project exhibit at the College of Charleston's Addlestone Library and Special Collections. On Sunday, we will look towards the Next 25 Years.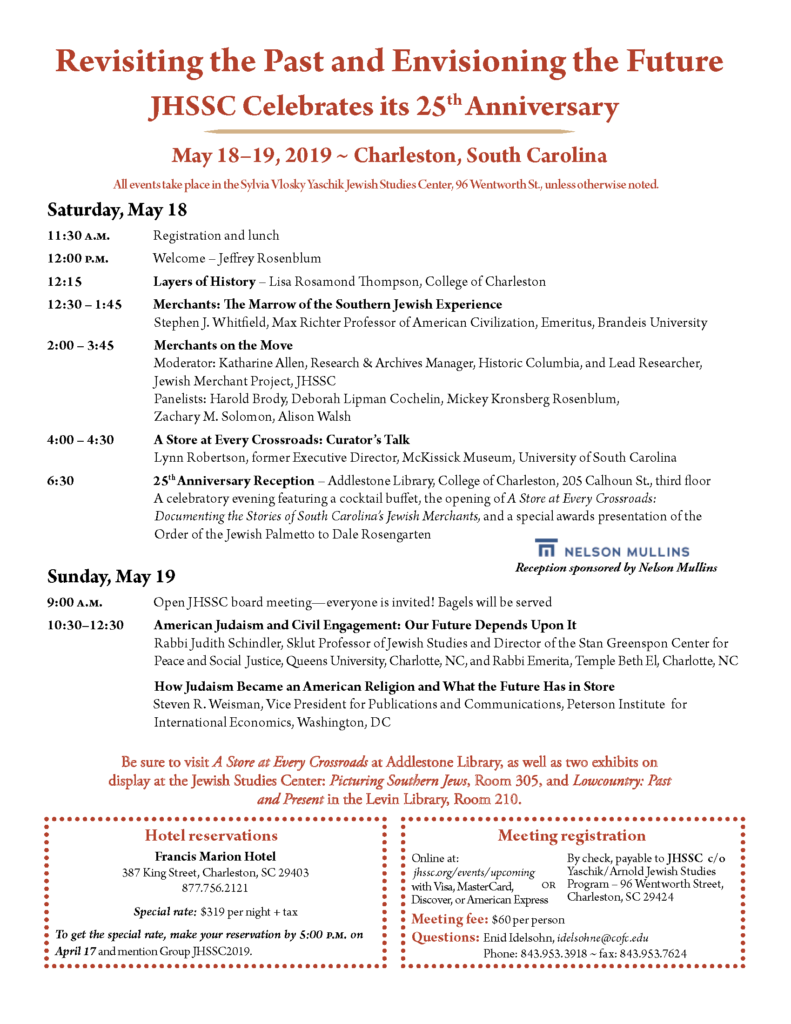 A block of rooms has been reserved for Friday (5/17) and Saturday (5/18) at the Francis Marion Hotel, 387 King Street for $319/night + taxes. For reservations, call 877.756.2121 and use Group Code JHSSC2019
Our Partner's Events
Yaschik/Arnold Jewish Studies Program
The Pearlstine/Lipov Center for Southern Jewish Culture
Ongoing Events
Historic Columbia and Columbia Jewish Heritage Initiative
Partners:
College of Charleston Jewish Heritage Collection (JHC), The Jewish Community Center (JCC), Columbia Jewish Federation (CJF), The Jewish Historical Society of South Carolina (JHSSC), and Richland County Library.
Purpose:
Identify and fill gaps in the documentation of Columbia's Jewish History; Document stories of Holocaust survivors who settled in Columbia; Encourage dialogue by collecting and sharing stories, images, and documents; Broadcast information to diverse audiences through print and web-based media and public programs; Create an ongoing coalition to sustain the effort in the future; Record stories of elders of Columbia's Jewish community. To read the entire article about the Columbia Jewish Heritage Initiative go to Page 11 of the Fall 2015 Magazine.
Contact:
To learn more about or participate in the Columbia Jewish Heritage Initiate, go to www.historiccolumbia.org/CJHI or Contact: Robin Waites, Executive Director Historic Columbia 803.252.7742 ext. 14 or rwaites@historiccolumbia.org
Are you planning an event pertaining to South Carolina Jewish History?
Contact us to have it listed here on our site.