Upcoming Event
JHSSC Spring Meeting & Partner Events Throughout SC
May 20-21, 2017
Charleston and Summerville, SC
"The 'Kingdom of Israel' in This Town"
Jewish Merchants of Charleston and Summerville
Two historic jewels of the Lowcountry – Charleston's King Street and downtown Summerville – are the settings for the spring meeting of the Jewish Historical Society of South Carolina. Saturday will kick off with a guided walking tour of bustling upper King Street, followed by a lecture and panel discussions about the impact of Jewish merchants from antebellum Charleston to the 21st Century revitalization of this great port city.
Sunday we travel to Summerville and hear from members of local Jewish families about merchant life in the picturesque town known for azaleas and sweet tea. Following the panel we will unveil an historical marker, take a walking tour of downtown, and enjoy afternoon tea at the former residence of Summerville merchant and philanthropist Saul Alexander, now home to State Senator and Mrs. Mike Rose.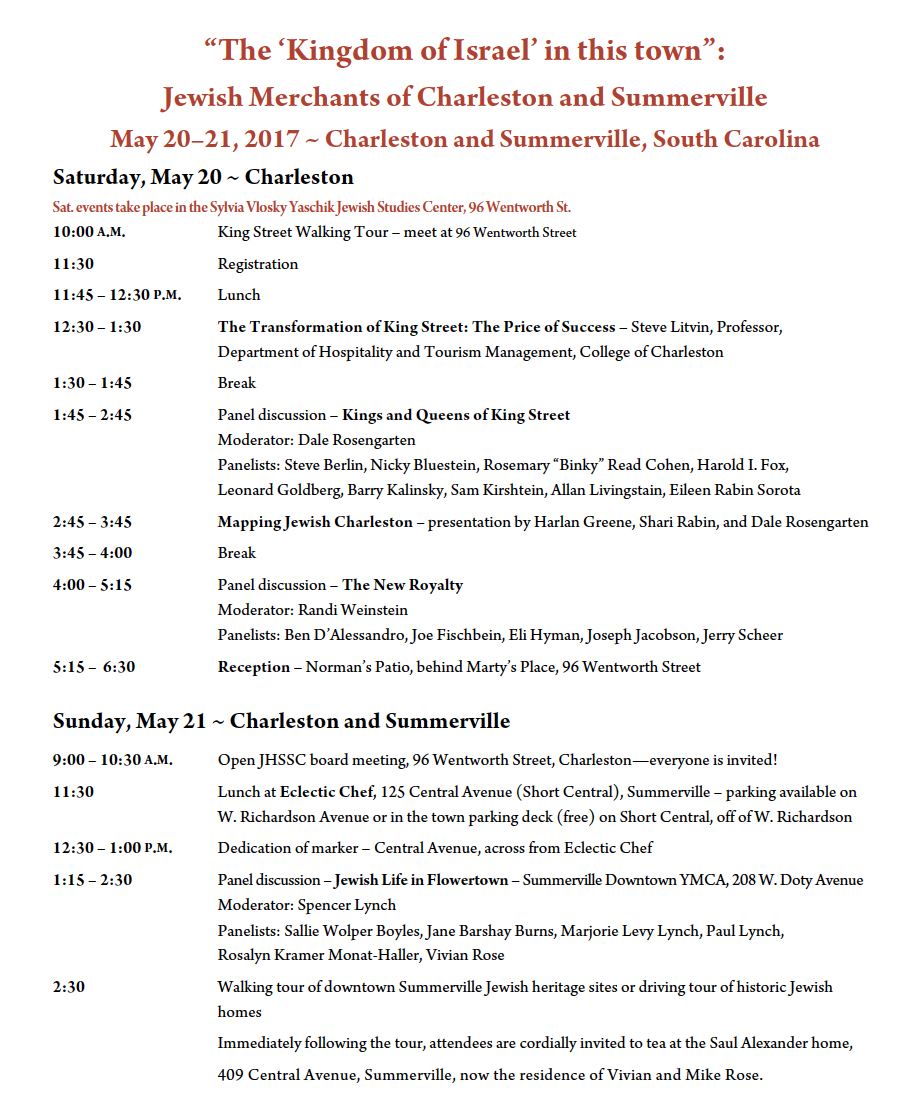 Meeting Fee: $50.00
To make Meeting Reservations, Click Here
HOTEL INFORMATION:
Francis Marion Hotel

387 King Street

Charleston, SC 29403

843.722.0600 or 877.756.2121

$269.00/night + tax

To get the special rate you must make your reservations before midnight on April 19, 2017, and mention you are with theJewish Historical Society of South Carolina.
Our Partners Events
The Pearlstine / Lipov Center for Southern Jewish Culture
Ongoing Event
Historic Columbia / Columbia Jewish Heritage Initiative
Partners:
College of Charleston Jewish Heritage Collection (JHC), The Jewish Community Center (JCC), Columbia Jewish Federation (CJF), The Jewish Historical Society of South Carolina (JHSSC), and Richland County Library.
Purpose:
Identify and fill gaps in documentation of Columbia's Jewish History Columbia's Jewish history,
Document stories of Holocaust survivors who settled in Columbia,
Encourage dialogue by collecting and sharing stories, images, and documents
Broadcast information to diverse audiences through print and web-based media and public programs
Create an ongoing coalition to sustain the effort in the future
Record stories of elders of Columbia's Jewish community.
To read the entire article about the Columbia Jewish Heritage Initiave go to
Page 11 of the Fall 2015 Magazine.
Contact:
To learn mare about or participate in the Columbia Jewish Heritage Initiate, go to www.historiccolumbia.org/CJHI or Contact: Robin Waites, Executive Director Historic Columbia 803.252.7742 ext. 14 or rwaites@historiccolumbia.org
Are you planning an event pertaining to South Carolina Jewish History?
Contact us to have it listed here on our site.