Upcoming Events
The JHSSC is Beaufort Bound in June!
Join the JHSSC for a great weekend of panels, tours, and visiting with old and new friends.
June 10-12, 2022
Accommodations (rates are good until May – availability is limited)
Beaufort Inn: https://res.windsurfercrs.com/ibe/details.aspx?propertyid=15362&checkin=06%2F10%2F2022&group=HSRB
Hilton Garden Inn: (843) 379-9800 (ask for JHSSC rate)
Springhill Suites: https://www.marriott.com/event-reservations/reservation-link.mi?id=1642683999179&key=GRP&app=resvlink
COST
Full weekend $120 per person
Saturday only $75 per person
Sunday only $45 per person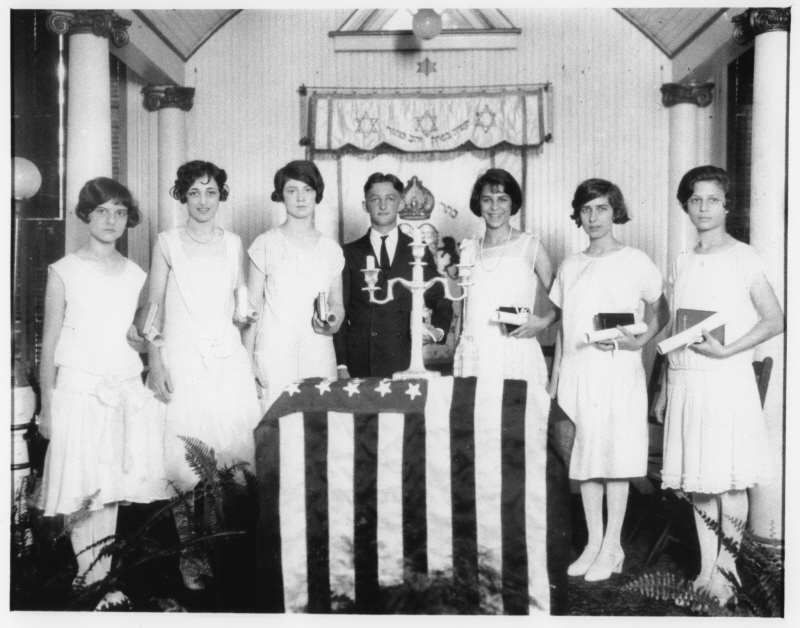 AGENDA (subject to change)
Friday, June 10
7:00 p.m. Shabbat services, Beth Israel, 401 Scott Street
Oneg Shabbat hosted by Beth Israel Congregation
Saturday, June 11 
11:30 Registration opens
11:30 a.m. Registration opens | Box lunch, social hall
12:30 p.m. Welcome and opening remarks ~ Alex Cohen
12:45 From Blue Collars to Blue Serge Suits: Beaufort's Jewish Settlers  Dale Rosengarten
2:00 Family Stories
  Moderator: Dale Rosengarten
Panelists: Helen Goldman, Barbara Mark, Elizabeth Schein-Pearson, Philip Young
3:30 Store Stories
Moderator: Rachel Gordin Barnett
Panelists: Robert Greenly, Tommy Keyserling, Paul Levine, Neil Lipsitz, Bernie Schein, Arnold Young
5:00–6:00 Reception sponsored by Nelson Mullins
Dinner on your own
Sunday, June 12
9:00 a.m. Open board meeting
Bagels, fruit, and coffee will be served
10:30 Reconstruction: An Unfinished Revolution ~ Judge Richard Gergel and Robert Rosen in conversation with special guests Thomas C. Holt and Lawrence S. Rowland
12:00 p.m. The Making of a National Park ~ Billy Keyserling
1:00 Tour of Reconstruction Era National Park sites ~ caravan or self-guided
Maps and box lunches will be provided
COVID Protocols 
We are aware that COVID guidelines may change by June. Vaccinations are required to attend the conference.
We plan to follow CDC recommendations and continue to update our protocols.
Ongoing Projects
JHSSC's Jewish Merchant Project
For more than 300 years, Jewish settlers – from across the Atlantic and around the country – have made their homes in South Carolina. The earliest Jews populated Charleston, Georgetown, and later Columbia, where they held a variety of occupations and became immersed in civic life. By the late 1800s, Jewish merchants had set up shop on downtown streets in towns big and small, and more than 100 years later their legacy remains alive through their descendants. The Jewish Merchant Project (JMP) goal is to preserve memories of the men and women who have played vital roles in communities across South Carolina. Their stories are our history.
Beginning in 2017, the JHSSC partnered with Historic Columbia and the College of Charleston to undertake a state-wide survey of Jewish merchants, past and present. The JMP website is the foundational product of that survey and will capture the impact of Jewish businessmen and women on communities, large and small, as well as the networks of family and friends that led Jewish men and women to call this state home.
Jewish Merchant Project | Explore the Merchant Map
Historic Columbia and Columbia Jewish Heritage Initiative
Purpose: Identify and fill gaps in the documentation of Columbia's Jewish History; Document stories of Holocaust survivors who settled in Columbia; Encourage dialogue by collecting and sharing stories, images, and documents; Broadcast information to diverse audiences through print and web-based media and public programs; Create an ongoing coalition to sustain the effort in the future; Record stories of elders of Columbia's Jewish community. To read the entire article about the Columbia Jewish Heritage Initiative go to Page 11 of the Fall 2015 Magazine.
Contact:
To learn more about or participate in the Columbia Jewish Heritage Initiate, go to www.historiccolumbia.org/CJHI or Contact: Robin Waites, Executive Director Historic Columbia, rwaites@historiccolumbia.org.
Are you planning an event pertaining to South Carolina Jewish History?
Contact us to have it listed here on our site.