| Next
A Few Among Many: South Carolina's Jewish WWII Veterans
By: Jack Bass
In 1934, two months after I was born as the Bass family's seventh child, my oldest sibling Bernie (Samuel Bernard Bass) enrolled as a freshman at the University of South Carolina. Six years later, he had a law degree and that summer opened a law office in our hometown of North in the western part of Orangeburg County.
A year later he signed up for flight training at an army air corps base in Texas, but, like many others, washed out in advanced training at Maxwell Field in Alabama. Still determined to fly, in late 1941 he headed for Sacramento, California, for training as a flight navigator.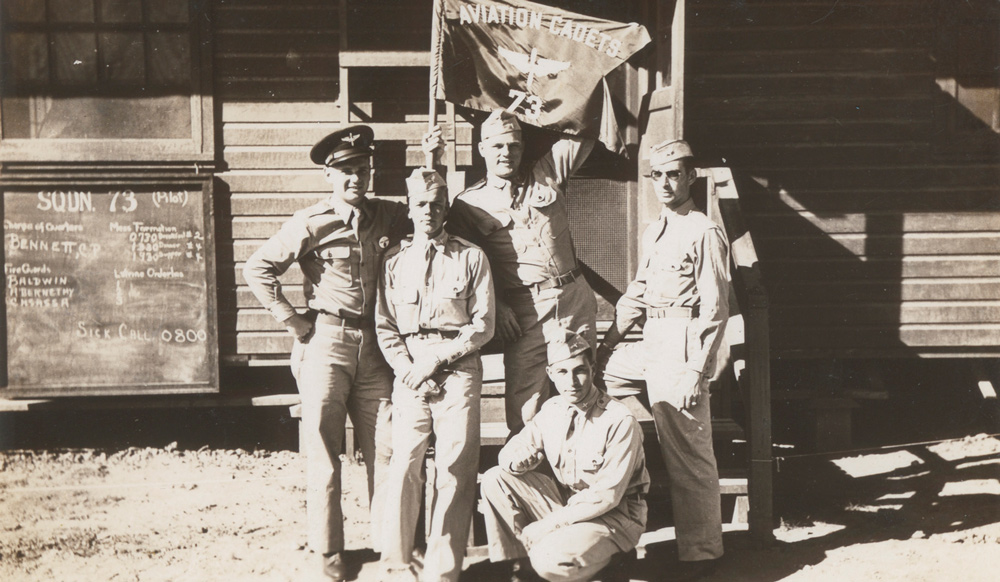 Above: Harold Aronson (squatting) with his fellow aviation cadets at Hancock College of Aeronautics in Santa Maria, CA
Meanwhile, my brother Herbie (Herbert), two years younger than Bernie, had gotten a pilot's license as a Citadel cadet, graduated when he was 20, and reported for navy flight training at Pensacola, Florida. With a bit of time off, Bernie decided to visit his brother there on a Sunday. The day was December 7th—the day the Japanese attack on Pearl Harbor changed everything— and my brothers would never see each other again.
Herbie's Dauntless dive bomber was shot down late in the Battle of Guadalcanal in January 1943, killing him instantly. Like so many others, for the family back home the news was devastating. The Nelson-Bass American Legion Post in North is named for Herbie and fellow hometown Citadel graduate Manning Nelson, killed in action. Herbie's death left a permanent scar on all members of my family, especially my father.
Bernie, meanwhile, had gotten his commission and was engaged in combat as bombardier-navigator on a B-25 middle-range bomber in North Africa. He flew many combat missions and was awarded the Air Medal for responding to an emergency in flight in October 1942 by climbing down into the plane's cramped bomb bay to tighten a set of pins that had loosened on one of the bombs. On leave he briefly visited Jerusalem and Tel Aviv.
---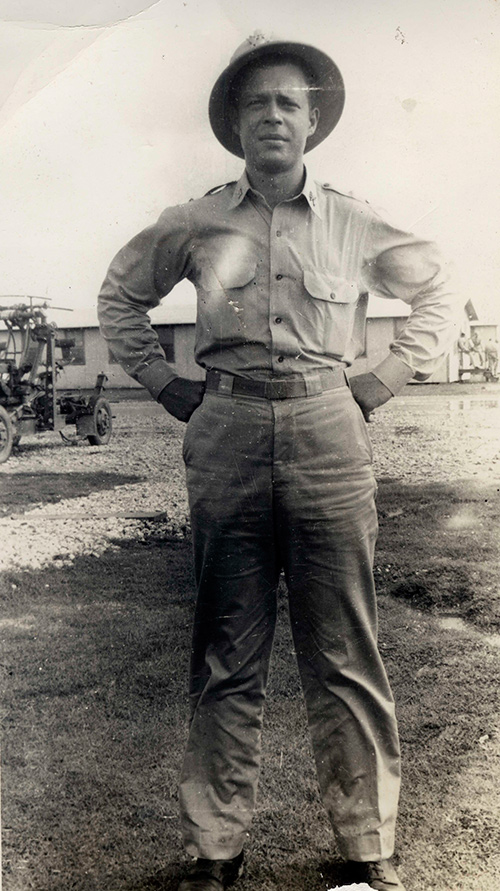 Left: Bernard Warshaw, Fort Stewart, GA, July 1942. Gift of Bernard Warshaw. Special Collections, College of Charleston.
Bernard Warshaw of Walterboro graduated from The Citadel in the same 1942 class as future SC Governor and US Senator Ernest F. (Fritz) Hollings. They served in combat near each other in Europe and would remain close friends after the war.
Warshaw was an artillery officer whose unit entered Germany through the highly industrialized Saar region, often being strafed by German planes. Through all the fighting, his battery unit was credited with shooting down 15 of the battalion's total of 52 German fighters.
They had disembarked at Cassino on the Mediterranean that freezing cold January, providing artillery cover for Fifth Army infantry battling north after landing at Salerno on Italy's southern coast. Americans captured Rome on June 4th, two days before D-Day at Normandy.
Barely two months after D-Day, Warshaw and Hollings's units both joined Operation Dragoon, the massive joint amphibious assault with French and British forces that invaded southern France. From there both units made parallel movements traversing 400 miles up the eastern border of France. They eventually joined Gen. George Patton's Third Army, linking American with British forces, now stretched from the major Allied Atlantic landing port at Antwerp, Belgium, to the Elbe River in the west.
Warshaw's most powerful experience during the war came on April 30, 1945, the day Hitler committed suicide. By now a captain, his colonel took him to the just-liberated Dachau concentration camp. It was a ghastly sight, seeing piles and piles of bodies of dead, emaciated people, Warshaw recalled. They couldn't be burned quickly enough by the Germans before they left the camp. When he opened the doors of two of the four ovens, the bones were still smoldering. The piles of bodies ran from eight to ten or eleven feet high, and the stench was absolutely horrible.
After the colonel took many photographs with his camera, he handed it to Warshaw, who took more. Years later he archived them in the College of Charleston's Jewish Heritage Collection.1
---
Henry Berlin of Charleston had not yet graduated from The Citadel, but he served in memorable action as a gunner's mate aboard an LST (Landing Ship, Tank) in a 12-ship flotilla that crossed the English Channel to Normandy on D-Day plus three. "We made about three trips a week landing tanks and crews," Berlin recalled. "And later we brought back several hundred POWs each trip."2
---
Henry Rittenberg (Citadel '38) seemed to wear a bad-luck ring that kept him from getting a commission. Short and stocky, he confronted unkind weight and height charts that twice blocked his getting a second lieutenant's brass bar. On other occasions, changes in regulations stopped him after promotion papers had been sent in.
As a Ninth Army corporal in March 1945, Rittenberg's artillery unit crossed the Rhine River and fought in the Battle of the Ruhr Pocket. "We did surveys for placing each battery," he said. As a forward observer— often stationed on a church steeple for height—he reported whether specific targets being fired on were hit. On VE–Day, his unit manned the west bank of the Elbe River, across from the Russians on the east bank.3
---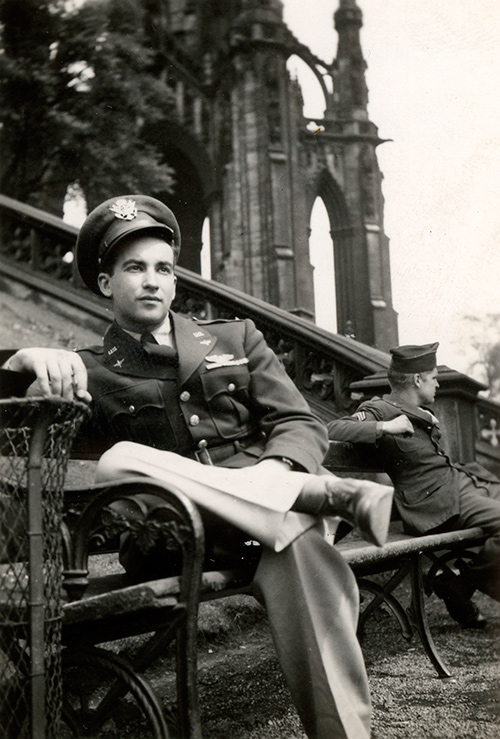 Right: Harold Aronson in Edinburgh, Scotland, July 1944. Gift of Rhetta A. Mendelsohn. Special Collections, College of Charleston.
Of all of South Carolina's Jewish World War II veterans, it's likely that none could match Harold Aronson of Kingstree in terms of the most historically memorable moment. After a year in the infantry, he transferred to the army air corps and by 1944 was flying 17-hour weather reconnaissance flights from England, checking the weather along the coast of Europe and far out over the Atlantic Ocean. At mid- afternoon on June 5, 1944, he took off on a routine flight and headed north to the southern tip of Greenland. The trip out meant flying 50 feet above the water to record surface conditions. The usual return flight was above the clouds to determine high altitude weather.
As was normal on such routine flights, Aronson turned on the radio that night after flying to the higher altitude for the return flight. He and his crew were listening to dance music from a Chicago station when, roughly two hours later, the music was interrupted and the station announced the Allied invasion of the European continent had begun. "It was news to us," Aronson recalled. "We didn't know a thing about it. There we were, sending radio messages back. I sent one message: "Go ahead, Ike. The weather is horrible, but you can do it." When they flew over the English Channel while returning to base, Aronson recalled, "Looking down, it looked like you could step from one boat to another—there were so many boats in the channel." Once landed, he said, "I went to bed."
Harold's brother Albert, also an aviator, had been shot down earlier over Romania. He spent 13 months as a prisoner of war, a period that overlapped D-Day. The first indication that he was alive and a prisoner, Harold said, came from the Vatican, which sent word to a priest in Charleston, "and the priest came from Charleston to Kingstree to inform my father."4
---
NOTES
1. Bernard Warshaw, audio interview by Jack Bass, 01 October2008, The Citadel Oral History Program Collection, The Citadel Archives and Museum, Charleston, SC.
2. Henry Berlin, audio interview by Jack Bass, 31 October 2008, The Citadel Oral History Program Collection.
3. Henry Rittenberg, audio interview by Jack Bass, 28 November 2008, The Citadel Oral History Program Collection.
4. Harold Aronson, audio interview by Dale Rosengarten and Rhetta Aronson Mendelsohn, 15 February 1996, Mss 1035- 053, Jewish Heritage Collection, Oral History Archives, Special Collections, College of Charleston, Charleston, SC.
Audio and transcripts of these interviews are online at lcdl.library.cofc.edu