November 9-10, 2019
Spartanburg, SC
Saturday, November 9

In Search of Jewish Spartanburg
Joe Wachter, Myrtle Beach, SC
Click Here to listen to the Presentation

Hub City Reminisces
Moderator: Joe Wachter, Myrtle Beach, SC
Panelists: Dot Frank, Allan From, Gloria Goldberg, Andy Poliakoff,
Gary Smiley, Sandy Smiley, Ben Stauber
Click Here to listen to the Presentation
Sunday, November 10

From Budapest to Spartanburg: The Teszlers, Textile Giants in the American South
Moderator: Diane Vecchio, Professor Emeritus, Furman University
in conversation with Dr. Charles D. Kay, Professor Emeritus, Wofford College
Click Here to listen to the Presentation
Pictures from the Weekend
The JHSSC places the health and wellbeing of our members and event attendees above all else.

Out of an abundance of caution, and in light of the CDC's recommended 8-week moratorium on public events, the scope of which includes our May 2-3 meeting in Columbia, JHSSC leadership have decided to cancel our Spring meeting celebrating the Jewish Women of the Palmetto State. 

In light of this cancellation, the JHSSC's Spring magazine is now an especially valuable resource celebrating just a few of our matriarchs. We urge you to read it at your leisure, and hope that you will encourage others to do the same. The digital version is linked below.

We look forward to seeing you, in good health, very soon.
Our Partner's Events
Yaschik/Arnold Jewish Studies Program
The Pearlstine/Lipov Center for Southern Jewish Culture
Ongoing Events
Historic Columbia and Columbia Jewish Heritage Initiative
Purpose: Identify and fill gaps in the documentation of Columbia's Jewish History; Document stories of Holocaust survivors who settled in Columbia; Encourage dialogue by collecting and sharing stories, images, and documents; Broadcast information to diverse audiences through print and web-based media and public programs; Create an ongoing coalition to sustain the effort in the future; Record stories of elders of Columbia's Jewish community. To read the entire article about the Columbia Jewish Heritage Initiative go to Page 11 of the Fall 2015 Magazine.
Contact:
To learn more about or participate in the Columbia Jewish Heritage Initiate, go to www.historiccolumbia.org/CJHI or Contact: Robin Waites, Executive Director Historic Columbia 803.252.7742 ext. 14 or rwaites@historiccolumbia.org
Though Charleston's Jewish history, dating back to the late 17th century, is becoming better known to academics, most people are unaware of the basic facts. How many know, for example, that 200 years ago Charleston boasted the largest Jewish population on the North American continent, and that Carolina claims many firsts in Jewish history—the first Jew elected to public office in the western world, the first Jewish patriot to die in the American Revolution, the first dissidents to introduce Reform Judaism to the United States? How these milestones were reached is a compelling story in itself.
Jews have lived side-by-side with other Charlestonians throughout the city's history, and since the city itself grew and changed over the years, we cannot rely on a single map or web page to tell the panoramic story. We invite you explore the Jewish presence in Charleston over the centuries through images and texts from our archives, plotted on historical maps that document the shifting geographical distribution of Jews and Jewish institutions across the urban landscape.
Explore Charleston's Jewish History through Historic Maps
JHSSC Celebrates 25 Years
May 18-19, 2019
Charleston, SC
Saturday, May 18

Layers of History
Lisa Rosamond Thompson, College of Charleston
Click Here to listen to the Presentation

Merchants: The Marrow of the Southern Jewish Experience
Stephen J. Whitfield, Max Richter Professor of American Civilization, Emeritus, Brandeis University
Click Here to listen to the Presentation

Merchants on the Move
Moderator: Katharine Allen, Research & Archives Manager, Historic Columbia, and Lead Researcher, Jewish Merchant Project
Panelists: Harold Brody, Deborah Lipman Cochelin, Mickey Kronsberg Rosenblum, Zachary M. Solomon
Click Here to listen to the Panel Discussion

A Store at Every Crossroads: Curator's Talk
Lynn Robertson, former Executive Director, McKissick Museum, University of South Carolina
Click Here to listen to the Curator Talk

Sunday, May 19

American Judaism and Civil Engagement: Our Future Depends Upon It
Rabbi Judith Schindler, Sklut Professor of Jewish Studies and Director of the Stan Greenspon Center for Peace and Social Justice, Queens University, Charlotte, NC, and Rabbi Emerita, Temple Beth El, Charlotte, NC
Click Here to listen to the Presentation

How Judaism Became an American Religion
& What the Future Has in Store
Steven R. Weisman, Vice President for Publications and Communications, Peterson Institute for International Economics, Washington, DC
Click Here to listen to the Presentation
Images courtesy of Kaleb Dill, Laura Moses, and Mark Swick



Saturday, October 20
What a Big City Boy Learned About Small Town Jewish Life: The JCLP Experience
David Sarnat, President, Jewish Community Legacy Project
Endangered Congregations
Moderator: Noah Levine, Vice President, Jewish Community Legacy Project
Panelists: Garry Baum (Camden); Barry Draisen (Anderson); Louis Drucker (Kingstree); Barry Frishberg (Orangeburg); Jack Lieb (Orangeburg); Rhetta Mendelsohn (Orangeburg); Paul Siegel (Walterboro)
Strategies and Resources for Survival
Moderator: Mark Swick, Executive Director, JHSSC
Panelists: Roger Ackerman, Temple Sinai; Rebecca Engel, Charleston Jewish Federation; Noah Levine, Jewish Community Legacy Project; Annie Rivers, Sumter County Museum; Anita M. Rosenberg, Kahal Kadosh Beth Elohim; Dale Rosengarten, College of Charleston; Jay Schwartz, Temple Sinai
Sunday, October 21
Stories from Jewish Camden
Barbara Freed James, Secretary and Treasurer, Temple Beth El
Community of Memory: Camden's Jews Then and Now
Moderator: Dale Rosengarten, Curator and Historian, Special Collections, College of Charleston Panelists: Cheryl Baum, Garry Baum, Barbara Freed James, Albert Baruch Mercer, Rita Tanzer

Sid

Dubin

in the door of Temple Beth

Or

, no date. Cour

tesy of Neil

Dubin

.
Turn out the lights when you leave. It's a simple statement that we've all heard. Seems reasonable, seems easy, but how do you do it? How do you do it when it's your synagogue and you're not only leaving, you're closing? Such is the fate of many of South Carolina's small-town congregations, including mine, Temple Beth Or in Kingstree, South Carolina. In February 2005, the day after my father's funeral, I had to turn out the lights.
The congregation at Temple Beth Or taught me many things. I learned to read Hebrew. I learned the history of the Jewish people and their historic struggles with many kinds of strife. I learned how hard work and compassion for others could reward you with far more than wages at a job. I learned that not all the people in my temple were perfect, but each had a purpose and a place. I learned to be a leader of the congregation and of weekly Shabbat services. I learned how to make as much noise as possible when I heard the name HAMAN! But what I never learned was how to end it all. How could it be that I, the president of the congregation, was going to be the one to make the decision that it was time to close the doors? How, after only 60 years, did this happen? How can I go over to our cemetery and look at the headstones of all these great people who had built so much out of so little? What did I do, or not do, that could have averted this awful end?
What do you do with the memorabilia that documents the history of your congregation? How about the Torahs, the religious school books, the Haggadot, the memorial boards, the eternal light, the building itself? These were all questions without answers.
Temple Beth Or was founded in April 1945 as a Conservative congregation by Jewish families that lived in small towns in the Pee Dee region of South Carolina. They met in members' homes until they finally decided upon a location for a synagogue in Kingstree. On April 10, 1949, the cornerstone for Temple Beth Or was placed. Like all congregations, there were Shabbat services, onegs, seders, Purim festivals, men's club and Sisterhood, religious school, Hanukkah parties, field trips, youth group, monthly bulletins, and fundraisers. We did it all. Except we didn't have a rabbi. How could we? We were only a small group of families in a small town.
Fortunately, Synagogue Emanu-El in Charleston was willing to take us under its wing for many years; with its help every child in our congregation for decades was either a bar or bat mitzvah. Every year, for the High Holidays, we hosted a rabbinical student from the Jewish Theological Seminary in New York to lead us in prayer. Our congregation prospered. Little did we know that our level of education, drive, and success would contribute to our demise. It wasn't long before our children, who had achieved excellence in the classroom and society, were now leaving our sleepy rural setting for life in bustling cities around the country. The job market was changing and our community wasn't. The proprietors of the many Jewish businesses in Kingstree and nearby towns were retiring and closing their businesses.
As our numbers diminished, so did our potential to attract new members. How do you convince that new Jewish couple with the four-year-old daughter to come to your temple when holding Shabbat services depends on finding a minyan; when you have no religious school because there are only two children in the congregation; when all of that and more is offered at another temple 40 miles away?
I suspect similar scenarios have taken place in other small Jewish communities in South Carolina, such as Camden, Dillon, and Orangeburg—isolated towns negatively affected by changes in the local economy and population. Some small congregations, like Temple Beth Elohim in Georgetown, have been able to avoid extinction because of their geographical advantage. Retirees moving south help to sustain these congregations, though it's a different environment, where religious school is taught by 70-year-olds to 70-year-olds and the only kids who are "members" are grandchildren who are visiting. The congregations dominated by older members are viable and dynamic, but to survive they must be located in an area with institutions and organizations that are vital to a thriving city or town. Many of our small communities in South Carolina don't have the societal infrastructure needed to retain their residents, let alone draw newcomers.
I only hope you don't have to be the person who turns out the light.
The Baum family (l to r): Garry Baum, Bernie Baum, Becky Baum

Lourie

, Cheryl Baum, Harry Baum, and Ann

Briskin

Baum, Temple Beth El, Camden, SC, Rosh Hashanah 1995. Courtesy of the Baum family.
Garry
When I was growing up in Camden, South Carolina, in the 1960s and '70s, the city had a population of around 8,000. Now it is about 7,000. But while the city itself has lost some residents, Kershaw County has really ballooned. The Jewish population of Camden was thriving when my siblings, Harry, Cheryl, Becky, and I were children, but it was starting its descent. Many kids, like me, left Camden after high school and did not return.
There were a few Jewish families in Camden with children: the Kareshes, Schreibers, James, and others. We would see each other at Jewish functions. My brother, sisters, and I were socially friendly with all of them. One of my earliest memories associated with Judaism was my brother Harry's bar mitzvah. It was a big event and many of our out-of-town relatives attended. The celebration took place at the Holiday Inn in Lugoff, which may have been one of the few hotels in the Camden area and probably the only one that could hold the large crowd that attended.
Growing up Jewish in a small town was different from being raised in a city that had enough Jewish families to fill a synagogue and maintain a youth group. Most of my friends were not Jewish. They really didn't understand my religion, but it was never an issue. The only difference was I got out of school for two days during the High Holidays, and we didn't celebrate Christmas with a tree, though one time we had a "Hanukkah bush" made of tree branches and gum drops. We usually had gifts during the eight days of Hanukkah and on Christmas morning.
My sister Becky and I were the only Jews at our small, private Christian school, Thomas Sumter Academy in Dalzell. The school gave us a quality education. My classmates may not have known why we got out of school each year for Rosh Hashanah and Yom Kippur, but the headmaster, Chuck Owens, was a good friend of my Camden grandmother, Minnie Tewell Baum, and he always excused us so we could attend services.
Besides opening every fall for the High Holidays, our active Jewish congregation held some Friday night services at Temple Beth El on Lyttleton Street. Behind the small sanctuary is an annex that housed a Sunday school. While we were growing up, however, there were not enough children to warrant weekly classes, so my brother, sisters, and I were driven to Temple Sinai in Sumter every Sunday morning. After Sunday school, we were treated to lunch at one of the restaurants in town.
Our home was next to the temple and served as the place for oneg after Shabbat services. My mom, Ann Briskin Baum, would have coffee and such for the Jewish families that would stop by.
Our house also served as a landing spot of sorts for a number of relatives. They would either come for a visit on their way somewhere, or they would plan a vacation and stay with us for a few days. We had a large dining room table that accommodated several guests at various meals; of course, there was a kids' table as well. My grandmother, Minnie, whom we called Nannie, would make the best chopped liver and that is when I learned to like it. To this day, all others are judged by hers.
Leon Schlosburg (wife Trixie) was our lay rabbi when I was little. Sometimes we would meet at one of Camden's restaurants after services, and on a couple of occasions congregation members gathered to celebrate Hanukkah together; I remember spinning the dreidel with the other children. After Leon died, my dad, Bernie Baum, became the temple's lay leader and conducted services for many years. When he and my mom moved to Myrtle Beach in the late 1980s, Jay Tanzer (wife Rita) led services. I remember Jay would also give a thoughtful and informational "sermon." I always made it a point to return to Temple Beth El for High Holiday services. I still do.
Becky
When I was growing up in Camden there were maybe 20 Jewish families who belonged to Temple Beth El—down from around 100 families in 1927. Our house was right next door to the temple, which, by the way, used to be St. Mary's Catholic Church, built in 1903. I remember going to temple as a young girl for Rosh Hashanah and Yom Kippur. There would always be a visiting, retired rabbi to conduct the services. Eventually, my father, Bernie Baum, took over leading the prayers for the holidays. My dad was not a rabbi; he owned Fox Pawn Shop, which was on Broad Street in the heart of downtown Camden. After he and my mother moved out of Camden, Jay Tanzer served as lay leader and he continued in that role for a number of years. Then my younger brother, Garry, took over, and he leads services twice a year for Rosh Hashanah and Yom Kippur. I still go home with my family for Rosh Hashanah.
My siblings and I went to Sunday school classes in Sumter at Temple Sinai. I remember my sister, Cheryl, driving us there every Sunday and how I never wanted to go. My older brother, Harry, had a bar mitzvah at Temple Sinai, and Cheryl and my younger brother, Garry, and I were confirmed there.
At home my family celebrated Rosh Hashanah, Yom Kippur, Passover, and Hanukkah, but I don't remember having a Shabbat meal on Fridays or lighting Shabbat candles as a child. The first time I lit Shabbat candles, we were having a meal with my husband's parents, Susan and Isadore Lourie. I remember thinking how special that felt and tried to do it often with my children when they were young.
I loved growing up in a small southern town and being Jewish was just that. I was Jewish and my friends were not, but that was okay. Life in Camden was good.
Cheryl
In school, I gave my friends cards and presents at Christmastime. There was no one to give Hanukkah cards to and my schools did not recognize Hanukkah as a holiday. We never had a tree to put our presents under like my friends whose families celebrated Christmas.
The sanctuary at Temple Beth El has not changed much. We do have air conditioning and heat now. Before that, we had large fans to cool us off. We have an annex in the back of the temple where the children—when there were enough for a class—went to Sunday school. My classmates learned more than I did about our Jewish heritage. I never learned much. Our class, which consisted of me, my brother Harr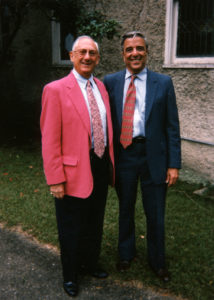 y, and the Schreiber and Karesh kids, was very small—about eight altogether—so my family sent us to Temple Sinai in Sumter for Sunday school.
In the 1960s and early '70s, our temple had a nice crowd of about 40 people. Now we have only about ten families. We open up only four times a year for evening and day services on Rosh Hashanah and Yom Kippur.
My father, Bernie Baum, became our rabbi after Leon Schlosburg died. Now my brother Garry Baum leads our services and we have different people read from the Torah. A member takes the Torah home after services to keep it safe.
Right Image:

Bernie Baum (l) and Jay

Tanzer

, former lay leaders of Temple Beth El, Camden, SC, Rosh Hashanah 1995. Courtesy of the Baum family.
It was not hard living in Camden with such a small Jewish community. That's all I know. I still live in Camden and I love it. Opening the temple for our holidays is very exciting. Now we have families coming from large cities to celebrate with us. They say it's because we are small and they would rather come to a small temple instead of one of the larger ones.
Harry
During the 1960s I remember having Temple Beth El next door to the house where I grew up in Camden. That was good about 14 days a year, because those were days when the congregation gathered for services. Temple was very formal, but also—little did I know at the time—very English. Hebrew was never spoken, except for the Sh'ma and the Bar'chu, which were recited from memory, not read. We had a rabbi from Sumter come during the school year once a month, on Sunday afternoons, to lead Shabbat services. During the High Holidays, the president of the congregation led the services—that is, the part in English. We would take out the Torah but never open it. As a child all I remember was being told to be quiet.
Sunday school meant going to Sumter every week—a 70-mile round trip. At the beginning, a high school student, Steve Zagoria, was hired to drive us. When he graduated it required an unhappy parent. Then three of us—David Karesh, Harry Kline, and me—had our bar mitzvah. We became the Hebrew experts. Even if we said something wrong, who knew?
Today the reality is the size of the congregation at Temple Beth El continues to shrink. I remember three generations of the Baum family—our grandparents Minnie T. Baum and Morris and Cille Briskin; Minnie's sisters, Rose Israel and Augusta Simons; Uncle Norman Baum; and my parents and siblings—taking up the entire right side of the temple, while the rest of the congregation was on the left. Many of us have moved away. Today, we have fewer than ten dues-paying families. Once we invited some friends of mine from a local Baptist church, who were interested in attending a service, and they outnumbered the Jewish people.
My brother, Garry, is in charge of services. Without him and Barbara Freed James, who is temple secretary and treasurer, we would not exist. I hope more Jewish people come to Camden so we can keep the temple alive for many years to come. It would be a shame for it to close.